Curious about how I rate cookbooks? You can always check out my rubric HERE.
This might be a mistake, starting with a review of my absolute favorite cookbook. But I just can't help myself, it's that good.
I was first introduced to Samin Nosrat by way of Tim Ferriss's Podcast, of all places. The interview is two hour and twenty-three minutes long, and I highly recommend giving it a listen. I was so infatuated upon listening that I immediately walked to the nearest bookstore during lunch, and purchased a copy of Salt Fat Acid Heat.
For those of you who aren't familiar with the author, Samin learned to cook as an apprentice at Chez Panisse, one of the best restaurants in the United States. After eating there just once while in college, she wrote a letter asking for a job bussing tables. She then became an apprentice, and that same openness, curiosity and drive carried her through her career to date as a chef, teacher and writer.
If you'll humor my inner fangirl for just another moment, Samin also studied writing with the inimitable Michael Pollan! She taught him how to cook as part of Cooked. So, of course it was love at first listen.
Salt Fat Acid Heat is unlike any other cookbook I've ever read or owned. The first half of the book is purely instructive. Divided into the four pillars of cooking (salt, fat, acid and heat, naturally), she seamlessly intertwines story, science and technique. Samin recommends reading it through, start to finish, first. You have to trust that you'll absorb what's most relevant, and reference back to layer in more knowledge and nuance as you continue to cook.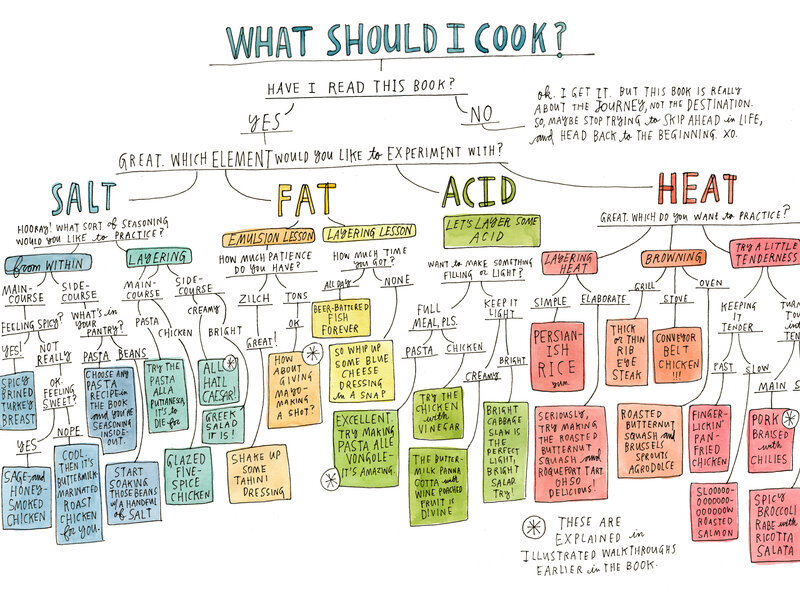 I did exactly as she suggested, and happily dove in. That night, my partner walked into the bedroom and asked, "Are you seriously reading a cookbook in bed?!"
Yes. Yes, I was. And I am not the same cook now, having read Salt Fat Acid Heat, as I was before. So, I thought it fitting that my inaugural cookbook review be something special.
Visuals: 4/5
---
There are no photographs in Salt Fact Acid Heat. None. Instead, the book is filled with the charming and informative illustrations of Wendy McNaughton. It's genius, really!
This might sound counterintuitive, but I think photographs would have been less informative, and harder to decipher. The illustrations really strip things down to their most essential details.
I think they also lend a feeling of accessibility to the book. Wendy's style feels so simple and human, so her illustrations take it distinctly out of textbook territory.
There were so many immensely useful diagrams and charts, I seriously considered buying a second copy just so I could cut some out to frame and hang in my kitchen!
Cookability – 5/5
---
For each pillar, Samin includes a few lessons and practice recipes that illustrate key concepts and allow the reader to experiment a bit. This aspect of the book is what has fundamentally changed the way that I cook.
Regardless of what recipe I'm using, I always taste as I go now, I salt thoughtfully and in layers, and I'm always thinking about an acid component.
The second half of the book is all recipes, and they do not disappoint. Here's a list of everything I've cooked:
Vietnamese cucumber salad
Shaved fennel and radish salad
Roasted squash, sage and hazelnut panzanella
Torn croutons
Lemon vinaigrette
Lime vinaigrette
Snap peas with chilies and mint
Garlicky green beans
Butternut squash and brussels sprout agrodolce
Chicken stock
Persian herb and greens frittata
Chicken and garlic soup
Chicken and lentil rice
Glazed five-spice chicken
Buttermilk-marinated roast chicken
Basic mayonnaise
Aaron's tart dough
Apple and frangipane tart
Nekisia's olive oil and sea salt granola
While some recipes do take time, I found them all to be simple, well written and useful. You know how sometimes, when you buy a new cookbook, you just never find the right occasion to make many of the dishes? And you can't pinpoint why they're never quite what you're looking for? But they just don't seem to fit? Yeah, this IS NOT one of those cookbooks.
Value: 5/5
---
For me, the value of Salt Fat Acid Heat was immense. Not only is the recipe section full of endlessly customizable recipes, but it improved my cooking overall. I reference it constantly.
As I've mentioned before, I walked away with some super useful skills. I learned how to spatchcock and quarter a chicken. Her chicken stock recipe as become my standard, as has the tart dough recipe. And, this might be embarrassing to admit, but I also learned how to ACTUALLY caramelize onions! Not sure how it eluded me for so long, but now I've got it down. I'm still working on mayo from scratch, however…
If you flip to the back of the book, you'll notice that Samin included some really thoughtful extras; full menu ideas, organized thematically, dessert pairings, and further reading, organized by topic.
Fomentation Factor 5/5
---
Most of the time I cook from recipes. I may be adventurous when it comes to choosing recipes, but I'm not usually the kind of adventurous cook that can invent a dish as I'm cooking it.
Samin gently encourages the reader to maybe, briefly, step away from recipes, and she does so without shaming or passing judgement. Instead, she offers a framework within which it feels safe to experiment, and the simple tools to do so.
And, given Samin's Persian heritage, I also felt like some of her recipes were a nice introduction to cooking Persian food. I'm totally hooked – I definitely just purchased a Persian cookbook this past weekend to expand on what I've learned.
If you're looking for a cookbook that will inspire you to simply cook more, this is it.
It certainly was for me. And it is no exaggeration to say that she, in part, inspired me to start this blog!
Salt Fat Acid Heat Total Score
---
I LOVED Salt Fat Acid Heat, and gave it a score of 19/20!
Cookbook Bookmarks
Have you tried COOKBOOK BOOKMARKS yet? I find them to be so, so useful, especially when I'm reviewing a particular cookbook.
To get a set for yourself, subscribe to my email list! You'll get a free downloadable file for my cookbook bookmarks. Once you've downloaded them, you can print as many copies as you like. Bookmark as many recipes as you need to! Really, it's such a basic, analog tool, but they make such a difference to my peace of mind.